Call for papers
NOTA: antiAtlas Journal is launching simultaneously two call for papers: see below #6 Air Deportation and #5 Heterographies. Both deadlines are set to December 14th, 2020.
antiAtlas Journal #5: Heterographies – Writing Forms and Apparatuses
Issue Editors:
Éléonore Armanet, Thierry Fournier, Cédric Parizot and Manoël Pénicaud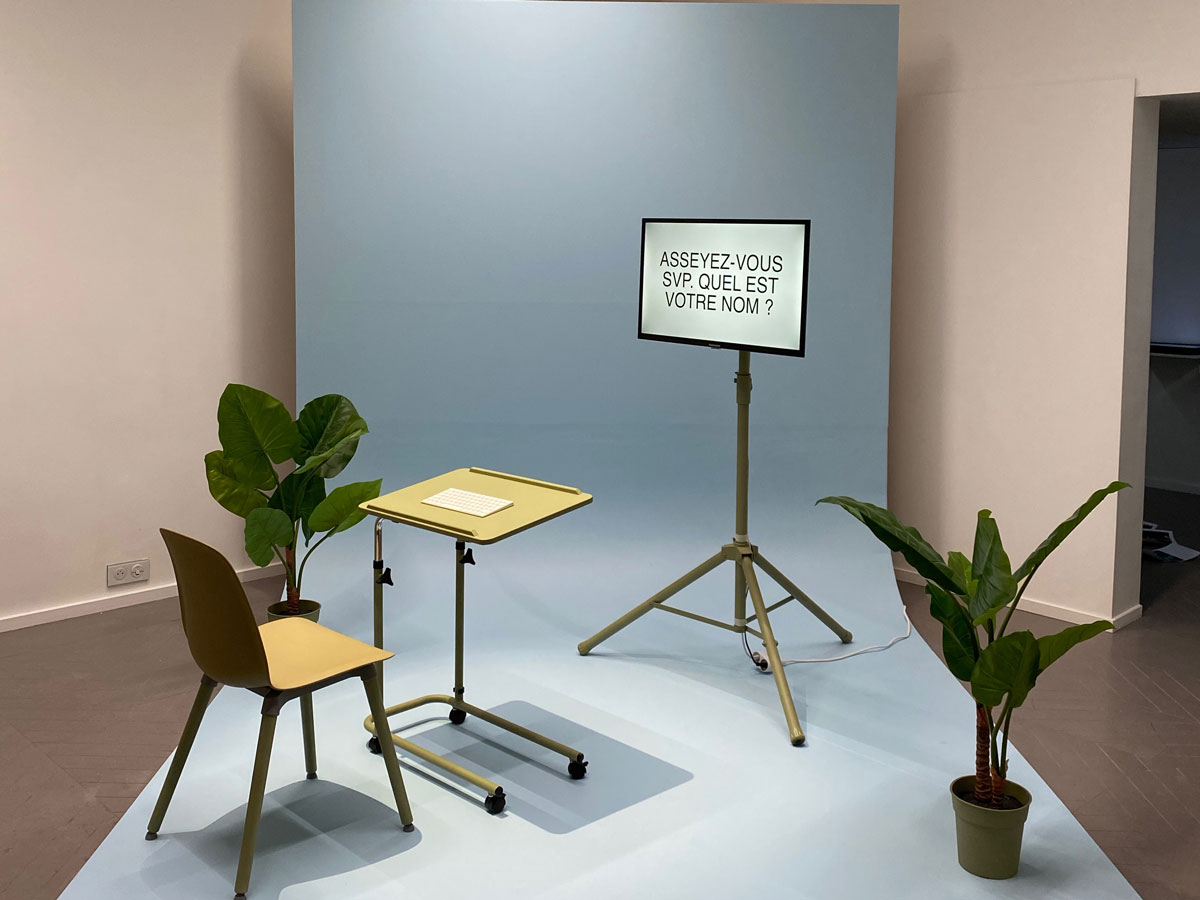 Image: Lauren Lee McCarthy, Autocomplete, 2020, exhibition view, Selphish, Mécènes du sud Montpellier-Sète (FR), curators and photograph Thierry Fournier and Pau Waelder.
The project of this antiAtlas Journal issue originates in a comparative re-reading of Michel de Certeau's works on writing and of André Leroi-Gourhan on ethnic style. It primarily stems from the European and Comparative Mediterranean Ethnology Institute at Aix-en-Provence (IDEMEC).
According to Leroi-Gourhan, style stands out and frames group identity1. While trying to grasp the ways in which humans write (about) themselves and "their others", we argue that the process of writing shapes style, and vice versa. A practice of difference, this singularization process gives form to alterity, just as the "heterologies" of Michel de Certeau are "discourses about the other"2. The neologism "heterography" should then primarily be understood as the "writing of difference". It does not then refer merely to the expression of a preexisting thought, but rather more to the very process of its production and materialisation.
The concept "heterography" captures the ways in which humans imagine and create the world, in varying manners. For if writing shapes a specific relationship to reality, we also witness a historic proliferation of writing regimes in our post-digital era. The prefix "post" here does not refer to a specific temporality (ie. 'after the digital age'). It rather stresses the digital powerful impact on our everyday practices and representations.
This call for proposals focuses on writing modes' diversification and its echoes within the fields of social sciences, humanities and art. Researchers have stressed how writing regimes influence the ways they observe, analyse, and disseminate their work. In parallel, artists use multiple writing forms and produce critical apparatuses, questioning their role in our contemporaneous societies, as well as the roles entrusted to text.
How do these changes inflect our relationship to the surrounding world? How do they alter our research's objects, our creation and the ways we disseminate them? How do they challenge our scientific and artistic practices – in terms of method, ethics and epistemology?
This call for proposals is thus addressed to researchers in human and social sciences (anthropologists, sociologists, historians, geographers, etc.), experimenting writing regimes that are not text-based (ie. documentary, museography, etc.) or integrating artistic practices in their research process. The call is also addressed to artists whose works are a reflection upon writing regimes and their expansion.
The antiAtlas Journal offers an exploratory editorial space that the authors are expressly invited to seize. Its "articles-landscapes" are organized as a tablecloth on a very large page in which one circulates freely, experiencing varied relations between the texts and the media.
Therefore, each author should submit (first in their abstracts, and alongside with the text) a large number of images, sketches, diagrams, maps, videos, and sounds put in constant dialogue with their theme. Rather than being merely illustrative, these multimedia elements will be constitutive of the articles' meaning. The guidelines to be followed may be consulted at https://www.antiatlas-journal.net/antiAtlas-Journal-charter.pdf
(1) Leroi-Gourhan (1964), Le Geste et la parole II, La mémoire et les rythmes. Paris, Albin-Michel, p. 89-94.
(2) Michel de Certeau (1975), L'Écriture de l'histoire. Paris, Gallimard, p. 16.
CALENDAR
Abstracts should be sent by the 14th of December 2020 at the latest, in French or English. Given the specific editorial antiAtlas Journal's form, abstracts must be a maximum of 6,000 characters in length, with a substantial amount of iconographical and/or pre-captioned multimedia elements (photographs, videos, graphics, drawings, maps, audio recordings…).
Documents should be formatted in .doc or .pdf, and addressed to the editors of the issue : Eléonore Armanet (armanet AT mmsh.univ-aix.fr), Cédric Parizot (parizot AT gmail.com) Manoël Pénicaud (manoelpenicaud AT gmail.com), Thierry Fournier (thierry AT thierryfournier.net) and the antiAtlas journal (postmaster AT antiatlas-journal.net)
Future contributors will receive a reply of their article being accepted by January 15, 2020.
Finalized submissions (maximum of 45000 characters + formatted multimedia elements) should be sent by the 5th of May 2021
The submitted articles must be adapted to fit the antiAtlas Journal's publishing guidelines: https://www.antiatlas-journal.net/antiAtlas-Journal-charter.pdf
Publication in the antiAtlas Journal #5 by October 2021
antiAtlas Journal #6: Air Deportation
Issue Editors:
William Walters, Clara Lecadet, Cédric Parizot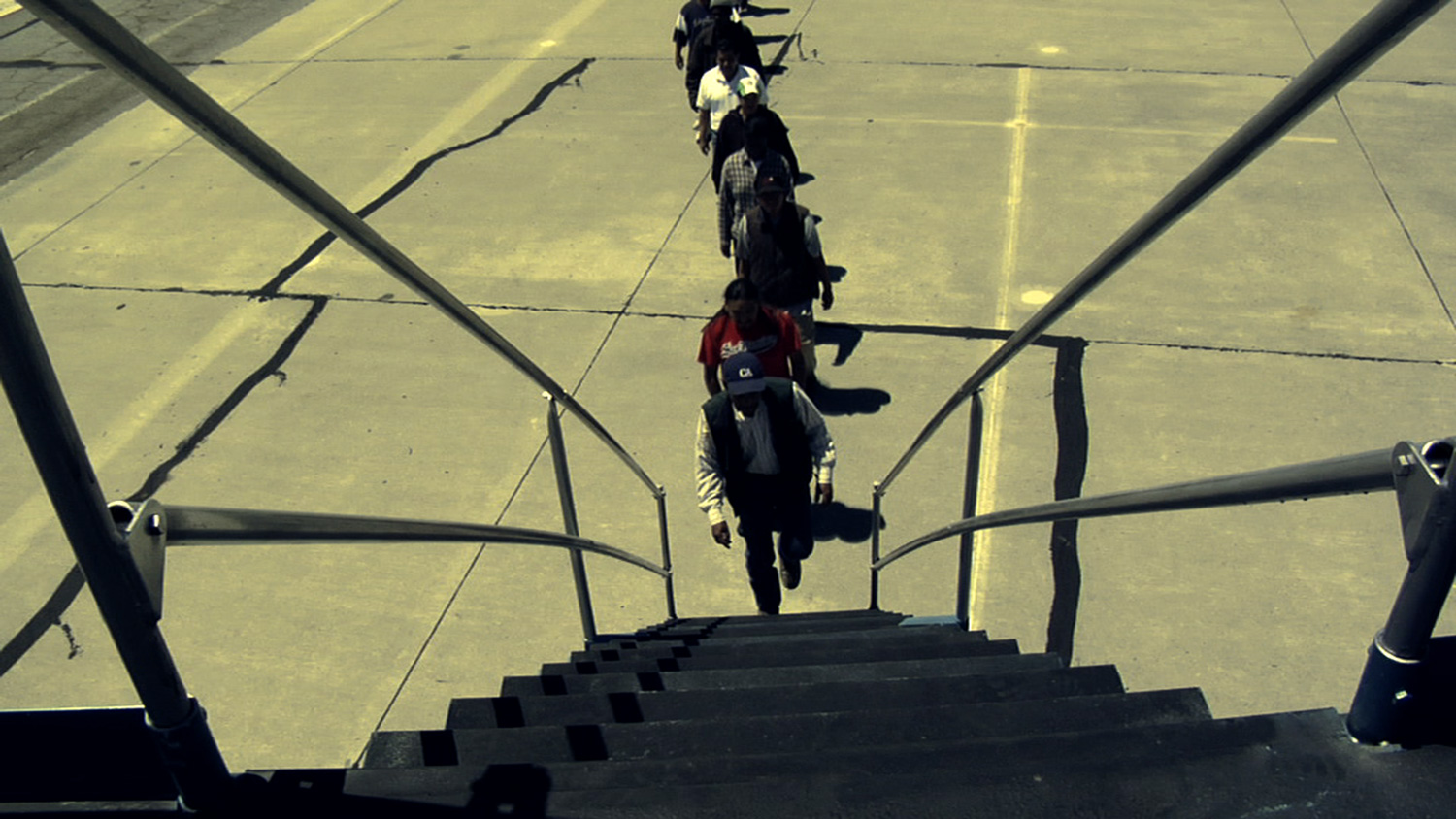 Adrian Paci, Centro di permanenza temporanea, 2007, video still. Courtesy of the artist and kaufmann repetto Milan / New York, and Peter Kilchmann, Zurich
Aviation is a key infrastructure that the governments of the Global North in particular use for forcibly removing people subject to deportation. We give the name air deportation to this system of coerced mobility. Occasionally air deportation becomes visible either because a deportee's struggle gains attention in the media, or an activist group challenges an airline for its complicity in forced migration, or a government decides to make a chartered flight a mediatized operation. But most of the time air deportation operates below the radar. While activists, journalists, human rights organizations and artists have drawn attention to the particular forms of violence and secrecy which accompany removal by air, our knowledge of what air deportation means for the struggles of migrants and refugees, for borders and migration governance, or for the stakes it raises regarding the becoming of our societies is less developed. Likewise our understanding of its ramifications in the airports and countries of destination.
How do various aspects of aviation interact with deportation practices and policies of states? In what ways does aviation empower states, bringing global reach, flexibility and intimidation to their dreams of immigration enforcement? At the same time, and conversely, in what ways does aviation expose immigration enforcement to new forms of bureaucracy and disruption? In what ways has the iconography of aviation – logos, liveries, symbols, etc. – become a counter- language for antideportation activism? What is happening to air deportation at a time when aviation, confinement, and institutions have all become vectors of Coronavirus?
The issue of the antiAtlas Journal will address these questions by engaging with different contributions of researchers, activists, experts, journalists and artists. Its aim is both to document and better understand this technology of governance, that can be alternatively and purposefully publicised or invisibilized and held secret by governments, as well as the struggles that are taking place to fight it. We seek to explore air deportation on many scales and from multiple perspectives. Our borderscapes and migration worlds are populated with images of seas and boats, images that are never innocent. But aeroplanes, air routes, and airports also make migration worlds and need to be addressed.
We see this special issue as an opportunity to think more broadly about the aerial geographies and air powers shaping and shaped by migratory identities, processes and politics, and about the mutations of borders and spaces in our contemporaneous world.
We welcome various formats including academic articles, essays, photography, videos, documentaries, interviews, documentaries and artworks. We are especially interested in the following themes and angles:
– Explorations of air deportation in different countries and regions.
– Studies of air deportation from the perspective of 'transit' and 'receiving' countries.
– Investigations of the visual field of air deportation, including the use of aviation in counter-images of expulsion, poster campaigns, solidarity movements, etc.
– Mappings and counter-mappings of routes and infrastructures of air deportation.
– Investigations of particular airlines or policy programmes (e.g., Frontex's joint return operations).
– First-hand accounts of experiences, logistics and policies of air deportation.
– Research on the worlds of pilots, flight crews, passengers, doctors, security staff, travel agents, humanitarians and other persons and authorities who become implicated in air deportation.
– Collaborative work between journalists, academics, artists and activists.
The antiAtlas Journal offers an exploratory editorial space that the authors are expressly invited to seize. Its "articles-landscapes" are organized as a tablecloth on a very large page in which one circulates freely, experiencing varied relations between the texts and the media.
We therefore encourage each author to submit, as of the present call for contributions, and accompanying her/his text, a large number of images, sketches, diagrams, maps, videos and sounds in constant dialogue with her/his subject. It will be understood that far from being reduced to an illustrative dimension, these multimedia elements are entirely constitutive of the very meaning of the articles. If needed, the antiAtlas editorial committee can assist the author to find and collect the relevant iconography. To this end, please consult the charter that every author of antiAtlas must observe at the following address: https://www.antiatlas-journal.net/antiAtlas-Journal-charter.pdf
It is also possible to submit photos, videos, interviews, whether they are documentary practices or works of art, independently of an article. With the author's permission, they could then be used by editorial committee to enrich the academic articles and other forms of texts.
CALENDAR
Submission deadline for proposals: December 14, 2020
Proposals for contributions must be sent in either French or English. According to the specific design and editorial conception of the journal, they should be around 1,000 words long and include a large choice of visual elements (photos, videos, graphics, drawings, maps etc.).
The submitted articles must be adapted to fit the antiAtlas Journal's publishing guidelines: https://www.antiatlas-journal.net/antiAtlas-Journal-charter.pdf
They should be submitted in PDF format via e-mail to the issue's editors : william.walters [at] carleton.ca, clara.lecadet [at] wanadoo.fr, cedric.parizot [at] gmail.com and to the antiAtlas Journal (postmaster [at] antiatlas-journal.net)
Selection of Contributions: January 15, 2020
Submission of final articles (45,000 characters plus or minus 10% in length + iconographic and multimedia elements): 15 May 2021
Publication of the French and English versions in the antiAtlas Journal: October 2021